Dr. Heather Carr is a General Dentist at Atlantic Dental Centre in Halifax who is passionate about continuing education and professional development.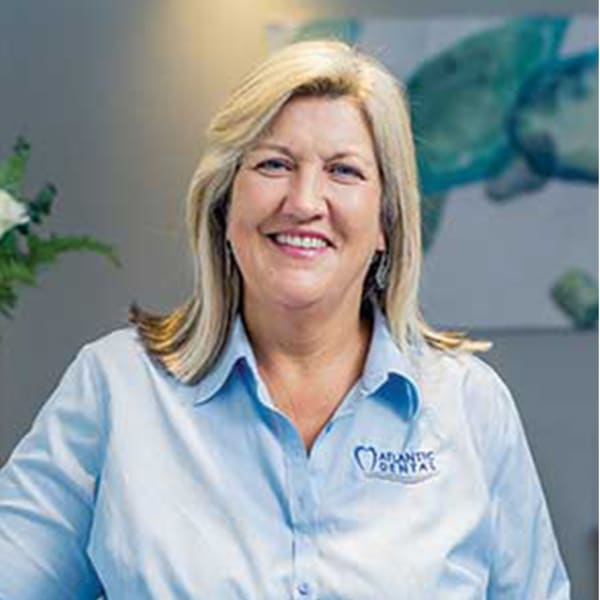 Dr. Carr enjoys providing all aspects of family dentistry to her patients including implants and general dentistry. She is fortunate to work with a great team, and together they strive to provide excellent, comprehensive dental treatment in a caring environment.
Dr. Carr graduated from Dalhousie Dentistry in 1988 winning the University Medal and a Gold D. She received a Bachelor of Science Honors in Psychology and the University Medal from the University of Kings College in 1984.
She actively pursues ongoing education including membership in the East Coast Endodontic Study Club and the Canadian Academy of Restorative and Prosthodontic Dentistry. Dr. Carr is Past President and member of the Halifax County Dental Society.
Dr. Carr has been active in organized Dentistry since entering dental school. She served, as the Nova Scotia member on the Canadian Dental Association Board from 2015 and is a Past-President of the Nova Scotia Dental Association. Her term as NSDA CDA Board Representative ended in April, 2021 when she was elected CDA Vice President. Her term as CDA President begins April, 2023.
Dr. Carr received the NSDA Volunteer of the Year Award in 2005, the NSDA Award of Excellence in 2015 and the Dr. Philip S. Christie Distinguished Service Award in 2021. She was named a Fellow in the International College of Dentists, the American College of Dentists and the Pierre Fauchard Academy.
Dr. Carr is a lifelong resident of Fall River and the proud mother of Dr. Chelsea Carr Kinnear (a Chiropractor in Fall River) and Dr. Evan Carr Kinnear (also a dentist). Dr. Carr spends her free time golfing, downhill skiing, enjoying fine arts and travelling with her partner, John. During the summer she kayaks with the Cheema Masters. Dr. Carr is active in the community and is a past executive member of the Cheema Board of Directors.